Camps Bay is not just the perfect holiday spot – it also offers a wide range of excellent dining too. Picturesque ocean views and a buzzing atmosphere make Camps Bay the destination of choice. Whether you're in Camps Bay on business or pleasure, make sure you visit these restaurants and enjoy excellent cuisine surrounded by astounding scenery.
More than twenty restaurants and cafes are situated within the Camps Bay region so it can be a little difficult to choose. We've put together a list of our favourites so, book your meal and enjoy the view!
The Twelve Apostles Hotel and Spa in Camps Bay is a sophisticated establishment, elegantly decorated and designed to serve guests with style. The Azure Restaurant is situated within the hotel and prides itself on offering the finest indigenous and international cuisine. With a menu that caters for all palates, including vegetarians, The Azure Restaurant prides itself on providing you with a meal to remember. The ocean views compliment the gorgeous food and the restaurant is open for breakfast, lunch and dinner seven days a week. http://www.12apostleshotel.com/dining/azure-restaurant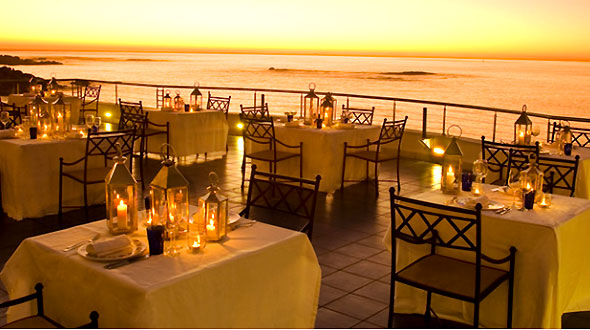 Café Caprice is a renowned bar and restaurant in Camps Bay. Open seven days a week and situated on Victoria Road, Café Caprice is the place to be seen. Frequented by a trendy and sophisticated crowd, Café Caprice is also ideally located, with a direct line view of the ocean and easy access to Camps Bay beach. Cocktail parties and corporate functions are well catered for here, as well as smaller, more intimate events. The kitchen produces great light meals and offers a range of café classics with a stylish twist. http://www.cafecaprice.co.za/
Café Sofia Oyster Bar opens early and closes late at night, offering a range of continental and Mediterranean tapas meals. Urban, informal and vibrant, Café Sofia is found on The Promenade in Victoria Road. With a piano and martini bar, Café Sofia's happy hour specials run every day and you can enjoy well-mixed, pleasurable cocktails. A cosmopolitan atmosphere runs through every element of Café Sofia and this restaurant epitomizes the spirit of Camps Bay. http://www.cafesofia.co.za/
Tuscany Beach Restaurant has been rated as one of the top five seafood restaurants in Cape Town. Situated on the edge of the Atlantic Ocean, overlooking the scenic Camps Bay with spectacular mountains as its backdrop, Tuscany Beach Restaurant is a fine dining restaurant not to be missed. The outside tables offer a more casual dining experience, whilst a more formal and intimate dining experience is provided indoors. The menu combines Italian favourites with fresh seafood and line fish but also easily caters for vegetarians. A true family business, Tuscany Beach Restaurant is a wonderful choice for a smart dinner or relaxed lunch.  http://www.tuscanybeachrestaurant.com/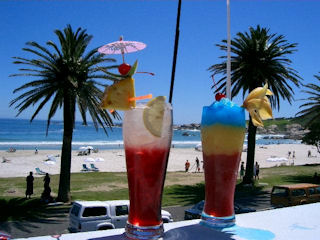 With restaurants like these, Camps Bay is the perfect choice for a lazy lunch or elegant dinner. Book your meal at these establishments and enjoy the best cuisine that Camps Bay has on offer.