The upmarket suburbs of Cape Town are generally known for their tree-lined avenues, relaxed atmosphere and elegant residences. Perhaps one of the most sought-after suburbs, Constantia is home to a wide variety of holiday establishments. Villas, holiday apartments and rental homes are dotted throughout the suburb and you'll be spoilt for choice when picking accommodation.
Constantia boasts five wonderful wine farms and is a proud symbol of excellent cuisine and wonderful indulgence.
Steenhuis is a Constantia Villa situated in the heart of the Constantia Valley Wine Route. Combining peaceful country atmosphere and grand elegance, Steenhuis has six bedrooms and can accommodate up to twelve guests. This villa offers total privacy and comfort in a serene space and is equipped with all modern conveniences.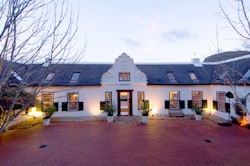 Bella Ombre is located just below the famously scenic Rhodes Drive. This Constantia Villa can comfortably accommodate up to ten people, with its five bedrooms and four bathrooms. With outstanding views of the Constantia vineyards and coastline, Bella Ombre is a truly tranquil treat, perfect for a quiet family holiday. With a huge veranda and open-plan living spaces, the villa is also great for entertaining guests.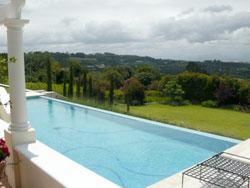 Take your pick from our listings of Constantia Villas and Holiday Apartments, and enjoy a spectacular holiday in style.