Romantic getaways are a cornerstone of good relationships. Escaping from the bustle of real life to concentrate on your partnership is an integral part of maintaining a happy, wholesome life. Camps Bay makes it easy for couples to escape for a while. Camps Bay offers a wide variety of activities for couples to enjoy whilst relaxing in scenic surroundings.
A few lucky folks get to call Camps Bay home but for many, this beautiful suburb is an incomparable holiday destination. Whilst Camps Bay's history stretches back to the 1700's, it's cosmopolitan nature and affluent atmosphere epitomize modern living and style.
Camps Bay is the most beautiful bay in Cape Town, with its beach lined by palm trees and overlooked by the Twelve Apostles mountain range. Incredible ocean views form the prime attraction of Camps Bay, making it the perfect location for a romantic getaway.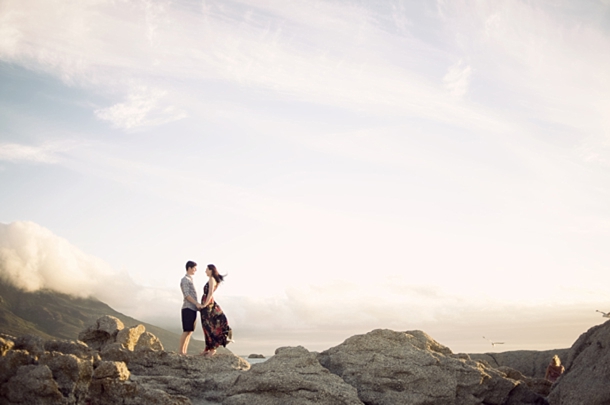 Spending summer days together on Camps Bay beach is a wonderful way to relax and unwind. Camps Bay beach is a charming, clean and bustling hotspot, with plenty of space for picnics, sunbathing and, of course, swimming. You can also enjoy a game of beach volleyball or venture into the water to surf. However you spend your time at Camps Bay beach, you can be sure that it'll be an unforgettable experience.
Romantic walks along the beachfront or Camps Bay promenade are a popular pastime, and are usually accompanied by beautiful sunrises or sunsets. The promenade is lined with restaurants, bistros, bars and cafes, so it's easy for you to drop in and enjoy a lovely sundowner after your stroll. If you and your loved one are feeling energetic, there are also a number of walking trails in and around the Camps Bay area.
With a wide variety of restaurants and bars dotted across the suburb, you won't run out of things to do! Fine dining establishments, casual cocktail bars and fantastic restaurants offer scrumptious food and a gorgeous setting for romantic nights out.
Selecting your Camps Bay holiday home may be the most difficult decision you will have to make when booking your romantic getaway. Camps Bay accommodation establishments take pride in their prime location, offering incredible ocean views coupled with sumptuous elegance. With luxury being the focus, Camps Bay holiday apartments are well suited to romantic getaways and you can enjoy a little quiet time with your partner, surrounded by astonishing beauty and tranquility.
Whether you choose to spend your couples getaway relaxing on the beach or cuddling up in your luxurious holiday apartment, Camps Bay offers you the perfect opportunity to rekindle your romantic life and enjoy the very best of what the Western Cape has to offer.
Image source: southboundbride.com