Fish Hoek is a charming seaside village, situated along the False Bay seaboard. With a long, beautiful beach and tranquil ambience, Fish Hoek is a popular holiday spot for families or visitors seeking a little quiet time away. It's also a popular residential spot for people who wish to live away from the noise of central Cape Town.
With one of the safest swimming beaches in Cape Town, Fish Hoek is an attractive option for family beach holidays. The ocean waters at Fish Hoek beach are warmer than those along the Atlantic seaboard. Fish Hoek is also a haven for watersports fanatics, with a wide variety of watersports facilities and clubs in the area. Body surfing, wind surfing, kayaking and hobie cat sailing are popular pursuits, and you'll easily find one to suit your desires. If watersports aren't your idea of fun, then a relaxing afternoon spent on the sand, with a book and your sunscreen is a wonderful way to relax. Fish Hoek is also known for its excellent land-based whale watching opportunities.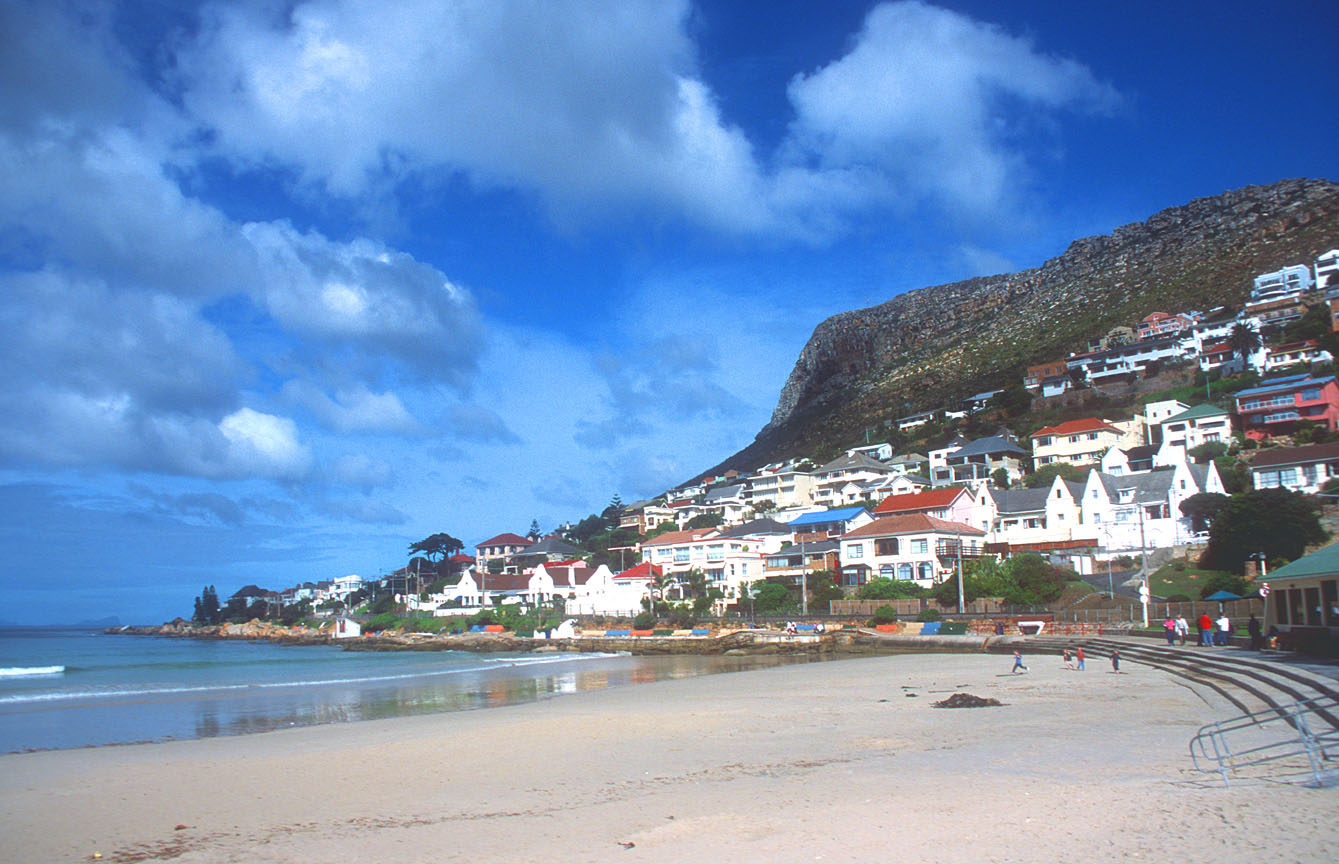 Hiking, birdwatching and walking trails are also dotted around the area. With mountains as the backdrop to this sweet little town, exploring the region on foot is an experience not to be missed. Peer's Cave is a popular tourist spot and also a National Monument. Just a short climb up the sand dunes rewards you with beautiful views of the Peninsula, whilst Jager's Walk takes you along a pleasant path to Sunny Cove. The Clovelly Country Club boasts magnificent bowling greens, tennis courts and one of South Africa's best golf courses.
With a vibrant fishing industry, Fish Hoek restaurants primarily specialize in serving up delicious seafood. The Galley is situated right on Fish Hoek beach and prides itself on offering a delectable array of homegrown cuisine.
Because Fish Hoek is small, it's easy to explore on foot. Shopping malls, scenic locations and places of interest are all within easy reach. Sun Valley Mall, Long Beach Mall and the Fish Hoek Shopping District are packed with exciting retailers, restaurants and takeaway outlets. You can also enjoy an afternoon of relaxed browsing as the main street of Fish Hoek is peppered with interesting craft, curio and antiques shops.
Fish Hoek Valley Museum is open six days a week and exhibits historical artefacts and photographs from the region, some dating back to the time of the San. Illustrated historical talks, school programmes and guided walks are often hosted by the museum.
Whether your interests extend to fun in the sun or more relaxing pursuits, Fish Hoek is a town to be explored and enjoyed.