One of the Western Cape's finest natural destinations is the Table Mountain National Park. A natural world heritage site, Table Mountain National Park encompasses both magnificent mountains and a stunning coastline.
The mountain range of Table Mountain National Park stretches from Signal Hill to Cape Point and is home to the world's smallest yet most diverse floral kingdom, The Cape Floristic Region. Populated by an abundance of fynbos and other plant life, the region is famed for its dramatic landscapes and over 9000 recorded plant species. Table Mountain National Park is primarily an open access park and attracts millions of visitors on an annual basis.
Table Mountain National Park is a nature lover's dream destination. Hiking and walking trails, bird watching routes and cycling paths are dotted throughout the region. A wide range of picnic spots can be found within the park, each offering a uniquely scenic place to enjoy a relaxed lunch.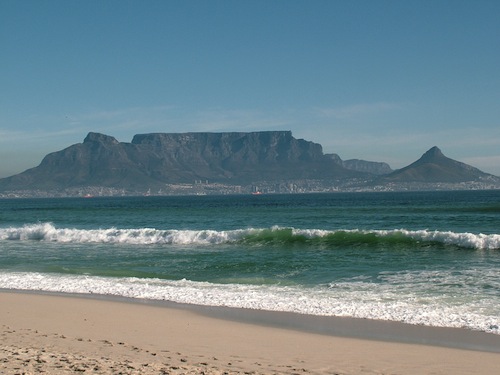 Two of the most prominent landmarks within the park are Table Mountain and the Cape of Good Hope. Table Mountain has recently been declared one of the new Seven Wonders of Nature. One of the most popular ways to explore this majestic mountain is via the Aerial Cableway. Once you reach the top of the mountain, you can enjoy a relaxed meal and take in the grand views of Cape Town and beyond. The Cableway has been open since 1929 and is still a strong tourist attraction.
If a scenic road trip is more to your liking, take a ride along Chapman's Peak Drive, which winds its way from Noordhoek to Hout Bay. This 9-kilometre route is a must-see for all visitors, as it provides a marvellous opportunity to stop and enjoy some of the Western Cape's greatest scenery. With sheer drops to the sea below and towering mountains rising above you, the curving road can seem endless. The drive offers breathtaking 180° views and numerous sightseeing and picnic spots can be found along the route.
Spending a day at Boulders Beach is a must for your holiday itinerary. A secluded beach, protected from the wind and large waves by big boulders, this beach is a wonderful play spot for families. A growing colony of African Penguins live and play on the beach so you can look forward to sharing the sand with some of these little fellows. Children will be enthralled by the penguins' antics but no feeding or physical interaction with the penguins is advised. Boulders Beach is also a great swimming and picnic spot.
With forest areas scattered across Table Mountain National Park, a forest walk is also a great way to explore this natural gem of a region. The most popular forest walks take you through Newlands Forest, Orange Kloof in Hout Bay and the Muizenberg Mountains. Tokai Forest is also a popular spot and many of the forests include cycling or MTB trails.
Table Mountain National Park lets you delve into all the natural wonder and scenic sights that the Western Cape has to offer. Enjoy and explore this treasure of the province.