When picking your holiday destination, one of your primary concerns is usually your budget. It is possible to enjoy a comfortable family holiday without making too big a dent in your pocket.
Stellenbosch is located east of central Cape Town and is home to Stellenbosch University and Maties Rugby Club. Maties is one of the oldest and biggest rugby clubs in the world. Other popular sports in the region include cricket, tennis and athletics. But Stellenbosch is also a proud beacon in the world of viticulture and is internationally renowned for its wine farms. The Stellenbosch Wine Route is a must for all holidaymakers. Steeped in history, Stellenbosch reflects its heritage throughout is architecture.
When seeking out holiday options, it's often cheaper to book in at a holiday apartment or villa, in comparison to booking into a hotel. There are a number of villas and establishments in Stellenbosch that are perfect for a family holiday and won't break the bank.
L'Olivier is a beautiful country estate situated in the heart of the Stellenbosch winelands. If it's luxury and tranquility you're after, L'Olivier is the place. The beautiful olive farm provides a beautiful backdrop to your holiday and the villa boasts four bedrooms, all with en-suite bathrooms. L'Olivier can accommodate up to ten guests.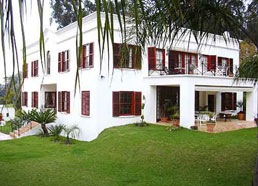 Le Jardin is surrounded by vineyards and glorious views of the Stellenbosch Mountain range. Focused on relaxed, outdoor living, Le Jardin boasts wide verandas, a large heated swimming pool, sauna and beautiful garden. With four, beautifully appointed bedrooms and a dining area that can cater for up to twelve guests, this Stellenbosch Villa is perfect for a comfortable and fun group holiday.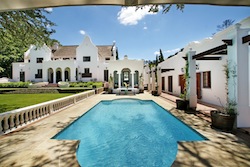 Your holiday needn't break the bank so book a Stellenbosch Villa for your group holiday and enjoy Stellenbosch on a shoestring.