Cape Town Stadium was built to host crucial fixtures of the 2010 FIFA World Cup. The stadium is located in Green Point, nestled between Signal Hill and the Atlantic Ocean. It's proximity to the Victoria and Alfred Waterfront makes it an easily accessible and popular tourist venue. More importantly, Cape Town Stadium boasts a capacity of 55 000 people and plays host to a number of important sports games and events.
The stadium was also built by utilizing energy efficient and environmentally friendly principles. The old Green Point Stadium was demolished to make way for Cape Town Stadium and ninety-five percent of the components from the old stadium were re-used and recycled. Potable water usage is also kept low and natural water sources are used.
There are also exciting new opportunities around the corner for the stadium as it has been proposed that the facility be opened up for commercial use. This would mean the stadium would house more commercial concerns, such as restaurants and coffee shops.
Green Point, where the stadium is situated, is a popular residential area for young professionals. Somerset Road is a popular nightspot and business in the area is also thriving.
There are some beautiful accommodation establishments located near to the Cape Town Stadium too.
Seaways Apartment is a two-bedroom, one bathroom apartment, found along Beach Road in Mouille Point. Modern, comfortable and luxurious, this apartment is perfect for the upmarket visitor and conveniently located for guests who don't want to miss out on the nightlife. With large windows, beautiful mountain views and comfortable furnishings, this apartment also boasts great storage space.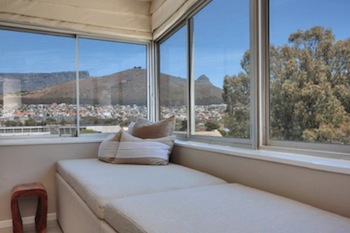 If you're looking for a larger space, near to the stadium, look no further than Springbok Road Villa. This three-bedroomed villa can accommodate up to six guests and has marvellous views of the ocean and harbour. Also centrally located, enabling easy access to Cape Town's top bars, restaurants and nightclubs, this luxurious villa is great for a private hideaway. The entertainment areas include dining facilities for up to eight guests, so you can enjoy a lovely dinner and drinks with family and friends.